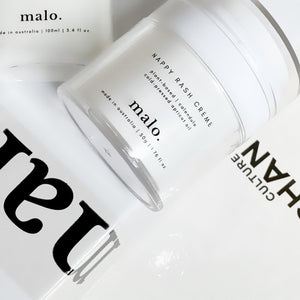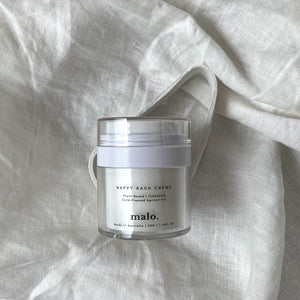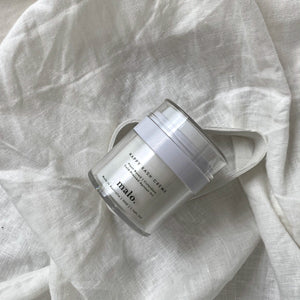 Product image 1

Product image 2

Product image 3

Malo.'s Nappy Creme is designed in an airless pump-up jar, so you never have to worry about getting your fingers dirty at nappy change #yourewelcome.

It is a soothing nappy rash creme that is vegan and made in Australia from natural plant extracts with a touch of calendula.

Rich in Vit C & E, Calendula & Chamomile, and made in Australia from natural ingredients it creates a buttery layer to help nourish and soothe irritated skin. No added nasties!
Product Info
Active Ingredients: Cold-Pressed Apricot Kernel Oil | Vit C & E | Sunflower Oil | Chamomile Extract | Calendula Extract | Vegetable Glycerine | Vegetable Emulsifying Wax | Zinc | Natural Potassium from Mountain Ash Berry.
Why Creme?
An airless pump-up jar that keeps your fingers clean and the contents in the jar clean
Never risk double-dipping again
One pump releases just the right amount for each nappy change
Soothes and protects with a rich layer of goodness in a creamy Shea base
Perfect for an on-the-go nappy change, anywhere
Palm-Free, Lanolin-Free, Honey-Free
Vegan and made in Australia
Directions for Use:
Pump one for the right amount of creme required for application
Swipe and apply to clean and dry baby bottom
No need to dip your fingers, so no risk of cross-contamination
If in doubt, we always recommend a patch test first.
Store in a cool dry place away from direct sunlight.
Size: 50g
Malo. products are natural and vegan, but if you are unsure we always recommend a patch test first. The Spray and Creme are designed to provide a protective barrier to soothe and protect the skin. For severe nappy rash or for sensitive skin, we recommend you consult your doctor.
About The Brand
Created by Sonya Khouri (and with rigorous input from her little one, Joseph) Malo is the ideal solution for busy mums. 

When you're juggling a pram, handbag, dirty nappy and baby, it's hard to grab that jar of nappy rash cream as well. Enter the Malo Nappy Spray and Nappy Creme - both made from native plants, yummy fruits and natural, clean ingredients like Aloe Vera Leaf Extract, Calendula, Chamomile, Vitamin E plus lots of other good things.
Formulated by their dedicated pharmacists and crafted by a specialist team in Sydney each product is vegan, cruelty-free and cleverly packaged to ensure easy application and no messy fingers. 
Shipping + Returns
SHIPPING
Ships from: Australia
Ships: Worldwide
Australian Shipping: Nash + Banks charges a Flat Rate of $10 per Order Australia-wide. Free Australian Shipping is available for orders over $150.
International Shipping: $15 to the rest of the world.

Delivery Time Frames: Within 2-5 business days within Australia (national cities & rural areas may take longer);
4-8 business days to New Zealand;
6-15 business days to North America, Western Europe, Asia and the Pacific;
10-17 business days to the rest of the world.
RETURNS
We are pretty confident that you'll love this product but if you are not satisfied with your purchase, we are happy to process a refund for the items as long as we are notified within 14 days of you receiving the goods subject to the conditions set out in our Returns Policy - please read here.