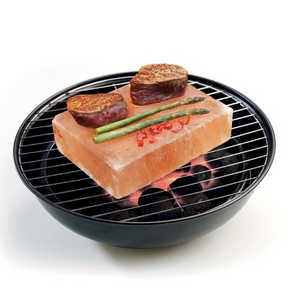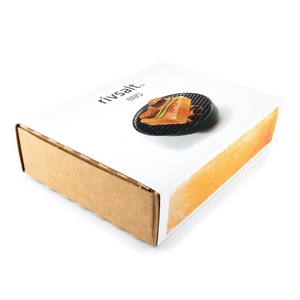 Product image 1

Product image 2

NATURAL  |  MINIMAL WASTE


Experience a completely new way of cooking on your beloved barbecue.
Rivsalt BBQ transforms your regular barbecuing into a gastronomic extravaganza. Simply add oil to the top surface of the Himalayan Pink salt block, then heat it up slowly until you have a sizzling cooking surface that flavours your food evenly.
Ideal for meat, fish, shellfish, and vegetables, or even as a chilled serving plate for sushi or fresh fruits. Wipe or scrape it clean after each use and store at room temperature. A perfect present to bring along to a dinner party or a housewarming party.
A unique present for a foodie who loves to barbecue or for dad on Father's Day! 
Product Info
Designed in Sweden.

Suitable for gas stovetop, oven and barbeques. Please note that our salt blocks are 4.5cm thick - for a good reason! A thinner block could easily crack and would not last as long. We want you to be able to enjoy the Rivsalt BBQ block for as long as possible! 
SIZE: L 20cm, W 15cm, H 4.5 cm
About The Brand
RIVSALT is designed by Swedish entrepreneur and designer Jens Sandringer.  Jens came up with the concept while dining at a Japanese teppanyaki restaurant in Beijing. After a productive six months of parental leave, the original Rivsalt product was launched at Designtorget Sweden in January 2013 
The RIVSALT product range is designed by a Swedish entrepreneur and designer Jens Sandringer. RIVSALT is all about design, communication and experience. Grating your own gourmet Rivsalt salt and spices, simply adds flavour and style to any dining experience. The beautiful design can enhance your dining table set up. Many of the dining accessories make great communication pieces too. 
RIVSALT products are great, unique gifts for foodies and home chefs alike.
Shipping + Returns
SHIPPING
Ships from:  Australia
Ships:  Australia
Australian Shipping:  Nash + Banks charges a Flat Rate of $10 per Order Australia-wide. Free Australian Shipping is available for orders over $150.

Standard Delivery Time Frames:  
3-5 business days within Australia,


RETURNS
We are pretty confident that you'll love this product but if you are not satisfied with your purchase, we are happy to process a refund for the items as long as we are notified within 14 days of you receiving the goods subject to the conditions set out in our Returns Policy - please read here.
Values
NATURAL
This product includes Himalayan salt rock.
MINIMAL WASTE
Packaged in a cardboard gift pack.
WEIGHT: 3kg