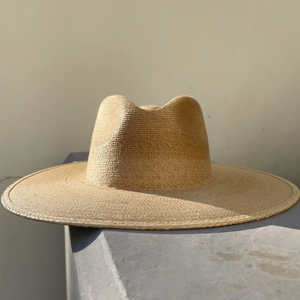 Product image 1

Product image 2
Product image 3
Product image 4
Product image 5
Product image 6
Product image 7
Product image 8
Product image 9
Product image 10
Suntoasted Fine Palm Rancher Hat
NATURAL  |  SUSTAINABLE  |  ARTISAN
The Suntoasted Fine Palm Rancher Hat is made of 100%  Fine Palm Leaf Straw that is purely organic, washable, re-shapable, and water-shedding.
The best part? Pure genuine handwoven palm leaf is self-conforming to the shape of your head, made without plastics or additives means it gets more comfortable with each wear.
An inclusive design that is unisex and universally flattering. The wide brim of the Suntoasted Rancher makes for a great sun hat to take anywhere with you on a sunny day.
Product Info
As with any handwoven product, no two are alike. Each one has the same hue with different weaving patterns.
Dimensions: 11 cm crown height and 10 cm wide brim.
Brim Style: Stiff modern brim (not floppy).
Materials: Made of 100% fine palm leaf straw.
Origin: Handmade in Mexico.
UPF Rating: 80+ (Superior)
Sizes: Available in S/M (56-58cm) that fits most women or L/XL (59-61cm) which is the unisex hat size. Sizes smaller than 56cm can be customised by adding a filler of 1-3cm. 
About The Brand
Born out of a desire to create and curate handcrafted timeless goods that are handcrafted using natural, non-synthetic or toxic materials. A focus on sustainable practices and foraged materials derived ethically from habitats where the utilised resource is abundant. 

Every HAUS OF TRADE design is minimalist in nature and unisex, brought to life through ancestral, sustainable practices that contribute to the preservation of natural resources. Protecting and honouring mother earth is at the forefront of every product made. Every element used in the making of our products is sustainably foraged resulting in a one-of-a-kind piece that will last you many years to come. 


Shipping + Returns
SHIPPING
Ships from: Australia
Ships: Worldwide
Australian Shipping: Nash + Banks charges a Flat Rate of $10 per Order Australia-wide. Free Australian Shipping is available for orders over $150.
International Shipping: $25 to the rest of the world.

Delivery Time Frames: 2-6 working days within Australia,
5+ working days to the rest of the world.
RETURNS
We are pretty confident that you'll love this product but if you are not satisfied with your purchase, we are happy to process a refund for the items as long as we are notified within 14 days of you receiving the goods subject to the conditions set out in our Returns Policy - please read here.
Values
ARTISAN + SUSTAINABLE + NATURAL

Delivering on their sustainable promise, this hat is painstakingly handmade; setting it apart from factory-made hats overseas. The straw is slowly toasted in the warm Mexican sun, giving it a one-of-a-kind caramel/tan hue.
What can you expect? A great quality, sturdy and timeless palm straw hat made of organic material with ZERO plastic fillers. As with any purely organic material, it will only get more beautiful and fit better with time.