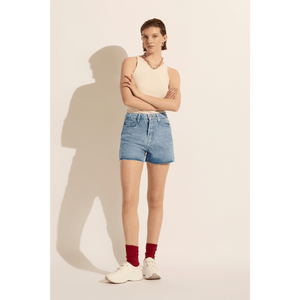 Product image 1
Product image 2

Product image 3

Product image 4
Annie High Rise Classic Short - Former
A quintessential denim staple. Annie has a slim-cut fit with a super flattering high-rise and a not-too-short but not-too-long 4" inseam. This style will hug firmly at your waist and relax through the leg for a casual shape. Made in a way that's better for people, the planet, and you. Quite possibly the perfect denim short.

A vintage-inspired wash, full of age and character such as Annie Former's, conventionally requires intensive finishing techniques harmful to the environment and garment workers. Not Annie. In using state-of-the-art water and energy-saving technology, Annie has been produced to be the most sustainable vintage-look denim on the market today.

Product Info
SIZE

Fits true-to-size. We recommend selecting the size you would usually wear in denim
Slim fit. This style will hug firmly at your waist and relax through the leg for a casual shape.

Rigid/No Stretch. Made with all-natural denim, these shorts contain no elastane or stretch. But don't let the term 'rigid' scare you. Outland Denim have selected this combination of natural fibres including organic cotton and lyocell for its beautifully soft and comfortable feel and environmental benefits. These shorts will feel firm on first wear and continue to grow softer over time. Truly getting better with age.

High-rise (10.5"), 4" inseam from crotch to hem, button fly closure

COMPOSITION

43% Lyocell, 40% recycled cotton, 17% organic cotton.

About The Brand
Outland Denim was founded on high ground - both ethically and geographically. Born on an Australian mountain top and made with the makers in mind, their founder James Bartle  conceived of a plan to give jobs to young women who desperately needed them circa 2011.
Outland Denim started as an avenue for victims of sexual exploitation to engage in safe, dignified employment as they rebuilt their lives, and have since widened their doors to accept employees from varying backgrounds of vulnerability and exploitation.   
They support their staff using the four pillars of training, opportunity, living wages, and education. Through this approach they have proven a sustainable career path is the key to lasting social change, both in the lives of their staff and their families and communities. 
Shipping + Returns
SHIPPING
Ships from: Australia
Ships: Worldwide
Australian Shipping: Nash + Banks charges a Flat Rate of $10 per Order Australia-wide. Free Australian Shipping is available for orders over $150.
International Shipping: $25 to the rest of the world.

Delivery Time Frames: 2-6 working days within Australia,
5+ working days to the rest of the world.
RETURNS
We are pretty confident that you'll love this product but if you are not satisfied with your purchase, we are happy to process a refund for the items as long as we are notified within 14 days of you receiving the goods subject to the conditions set out in our Returns Policy - please read here.
Values
ETHICAL

Outland Denim support their staff using the four pillars of training, opportunity, living wages, and education. 

Their seamstresses are trained in every element of the jean-making process. A living wage ensures workers have enough income to afford a decent standard of living, cover necessary expenses, such as food, housing, healthcare, education and discretionary items, and allows them to save for unexpected events. For many of their staff, this level of financial security is freedom in itself. Freedom from worry. Their staff can send their children to school, provide for extended family, and plan for the future. All things previously not possible.

Staff participate in education and personal enrichment programs to support them and their families. Education programs include budgeting, women's and infant health, computing skills, human trafficking awareness, English, and self defence.

Beyond the staff at their own facilities, they ensure their entire supply chain is free from slavery and exploitative practises. 

SUSTAINABLE + VEGAN
Wear with pride knowing your garment was made better for people, the planet, and you. Made with organic cotton, zero harmful chemicals, 100% traceable denim, 100% vegan materials, and state-of-the-art water and energy-reducing technology.

Your garment was made in Outland Denim's stand-alone production and wash facilities based in Cambodia, designed to create a cycle of empowerment in vulnerable communities, by providing opportunity, education, and financial freedom to women in need.