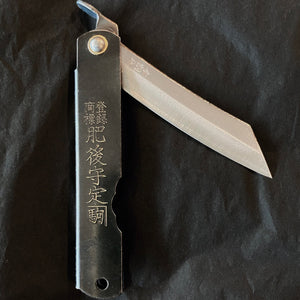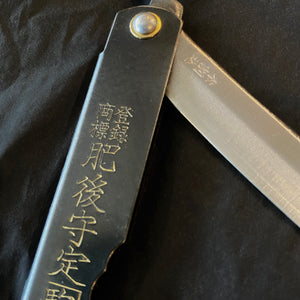 Product image 1
Product image 2
Higonokami Folding Knife - Black - Medium
Since 1894, Japanese bladesmiths have hand-crafted this simple folding pocket knife for everyday use. While there were once 40 members in the guild making genuine Higonokami knives, today there is only one maker - Nagao Kanekoma - left still making these knives, in Miki City, Hyogo Prefecture. Considered to be Japan's first ironware town.
The blade is made of laminated SK High Carbon Pressed Steel to create a durable, handcrafted blade with long-lasting sharpness. It has a medium blade length of 7.62cm and is approx 9.54cm in length when closed.
Today, these versatile folding knives are useful for many tasks including camping, cooking, crafting, foraging, opening boxes, etc.
They also make a perfectly suited and meaningful gift to a loved one or yourself.
*Please notify us if you would like this gift wrapped and we will add a coin before wrapping!
Product Info
Handmade Japanese Pocket Knife
Blade: Double-edged, carbon steel - approx 7.62cm
Handle: Steel Handle with Black Finish
Function: Cutting, slicing, chopping, stencilling, and peeling.
Hand-forged in Japan
This knife does not have a lock.
All higonokami knives show some marks that have occurred during manufacture.
Non stainless steel kitchen, chef and folding knives require a small amount of care to prevent surface rust.  
Shipping + Returns
Orders are dispatched within 1-3 working days.

We are committed to keeping our delivery costs fair, low and fully transparent.

Free Std Shipping on Orders Over $150*

In order to keep your costs down and our pricing simple, delivery is FREE for ALL NASH + BANKS customers within Australia if you spend $150 or more on full-priced items in one transaction*.

This does not include BULKY ITEMS. You'll either be charged shipping on bulky items at the checkout or we will contact you separately with a freight quote. Please see individual product pages to see if an item is considered BULKY.

*Free shipping does not apply to international orders.

Please refer to our shipping policy for more detail and international shipping rates.
For information about returns, please check our returns policy.
About The Brand
Higonokami is a traditional shape of folding knife with a long history. 
Established in 1894 in Miki City, Hyogo Prefecture. Considered to be Japan's first ironware town. Nagao Kanekoma has hand-forged Higonokami knives for more than 120 years. These handcrafted knife-making skills have been passed down through five generations.