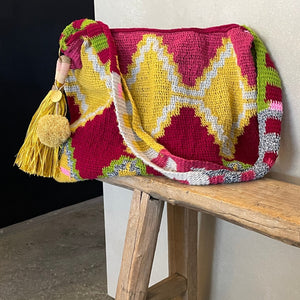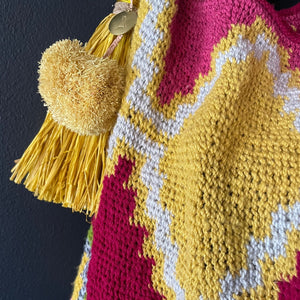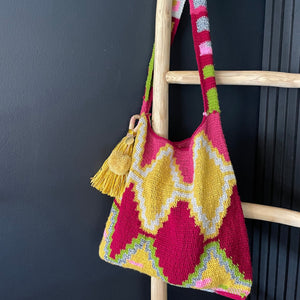 Product image 1
Product image 2

Product image 3

Product image 4

Diamond Design Bilum 1505
This one-of-a-kind Diamond Design Bilum by not-for-profit brand Among Equals was lovingly woven by artisan weaver Salome Park in Mount Hagen in the Highlands of Papua New Guinea. 
The story behind the Diamond design is rich in culture and is held dear to the women of Papua New Guinea, not only is it a symbol of abundance and prosperity, but traditionally in Goroka it is given to a newlywed as a sign of wealth and prosperity for their new married life.
This Bilum is handwoven from acrylic and wool yarn as well as upcycled knitwear using traditional weaving techniques.
Large size body and long strap length.
Each pattern weaves a story of the life of the artisan.
Product Info
Material:
80% Acrylic 20% Wool

Dimensions:
53cm wide
41cm high
101cm strap

Embellishments:
Hand made pom and tassel in yellow.
Made from 100% raffia.

Meet the Weaver:
Artisan weaver Salome Park, 32, is married with five children. Her eldest daughter, Rachel, 13, has started to learn the craft from her mother after school. Salome's husband is currently setting up a nature park for tourists in Goroka, meanwhile Salome weaves whenever she can to support the family's income.
Shipping + Returns
Orders are dispatched within 1-3 working days.

We are committed to keeping our delivery costs fair, low and fully transparent.

Free Std Shipping on Orders Over $150*

In order to keep your costs down and our pricing simple, delivery is FREE for ALL NASH + BANKS customers within Australia if you spend $150 or more on full-priced items in one transaction*.
Express Shipping and Click & Collect options also available.

This does not include BULKY ITEMS. You'll either be charged shipping on bulky items at the checkout or we will contact you separately with a freight quote. Please see individual product pages to see if an item is considered BULKY.

*Free shipping does not apply to international orders.

Please refer to our shipping policy for more detail and international shipping rates.
For information about returns, please check our
returns
policy.
About The Brand
Among Equals was founded by textile designer, Caroline Sherman, in 2015 after she fell in love with the craft of Bilum bags, which were on display at an annual Pacific Trade and Invests show in Sydney. 
In 2015, Caroline made her first trip to Papua New Guinea to immerse in the weavers' world and view their annual Bilum Festival held in Goroka. During her travels, she met women from different regions and the idea for the Among Equals endeavour was cemented. Today, the brand works with communities across Papua New Guinea, including the Goroka, Mount Hagen, Telefomin and Madang regions, and is proud to count more than 600 weavers in its fold.
Through its trade of Bilum, Among Equals is dedicated to improving the communities' well-being, including funding and construction of Blue Haus, a safe shelter for the weavers to come together, learn and weave.