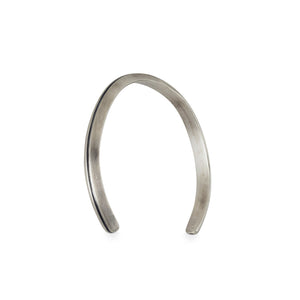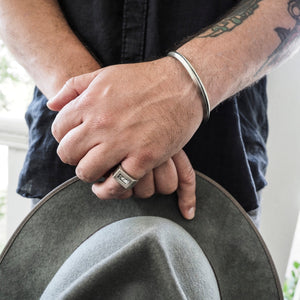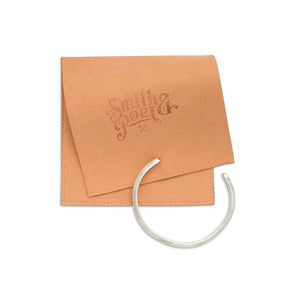 Product image 1

Product image 2
Product image 3

Product image 4

Alluvial Cuff in Sterling Silver
ARTISAN  |  AUSTRALIAN MADE  


The Alluvial Cuff from the Desert Muse collection calls in the shaping force of ancient rivers and the alluvial plains of the land. Even within a desert there are stories of beautiful flowing movement and ongoing change.

The Alluvial Cuff is handcrafted in Sterling Silver at Smith and Poet's Sydney studio. A carved out mid line represents the ancient river journey. This unique piece is finished with a brushed texture and oxidised, embodying the subtle tones and contrasts of the desert.

Each piece of jewellery is made to order. Please allow 1-2 weeks for delivery.
Product Info
Metal: SOLID STERLING SILVER with authenticity stamp and makers mark on inside of cuff.

Dimensions: 5mm wide cuff with 1mm carved grove running the full length of the band. Inner ovoid diameter is 60mm.

Size: One size. Unisex. Metal is finished medium - soft so can be gently shaped to fit wrist.

Each piece of jewellery is made to order. Please allow 1-2 weeks for delivery.

About The Brand
Like poetry in motion, each creation by metalsmith Kate Caicedo of Smith and Poet has been lovingly crafted from metals like gold, silver and rose gold, and bears the artist's signature stamp.

Designed to evoke the beauty of strength and freedom of self-expression, her pieces embrace architectural and minimalist elements to create a powerful yet subtle piece that looks great on both men and women.
Shipping + Returns
SHIPPING
Ships from: Australia
Ships: Worldwide
Australian Shipping: Nash + Banks charges a Flat Rate of $10 per Order Australia-wide. Free Australian Shipping is available for orders over $150.
International Shipping: $20 to the rest of the world.

Delivery Time Frames: 2-4 working days within Australia,
2-3 weeks to the rest of the world.
RETURNS
Smith and Poet guarantees quality and each piece is checked prior to dispatch by the artist herself. No refund is possible for change of mind, however, customer satisfaction and pleasure in owning a Smith and Poet piece is the highest of priorities so please do not hesitate to connect via email if you have a question about the piece you have received.
Values
ARTISAN
Smith – being the dedicated, working human hand.
Poet – being the creative expression that flows through all of us and our surroundings.
Every design begins with a simple desire to share ideas and explore possibilities.
Kate Caicedo is a designer and metalsmith. 
Smith & Poet is more than just a creative outlet for Kate and more than a business. It's also a tangible expression of a life philosophy. "I relate metalwork to life; it seems to have the same processes," she muses. "Of knowing when to use fire, strength and force or a more slow, delicate touch and precise attention to detail. How to remain in a structured realm, yet still be an authentic expression. Our lives are like this — handmade by design and much better when not rushed."
AUSTRALIAN MADE  
Handmade in Kate's studio on Sydney's Northern Beaches.