Written by Theodora Chan
Meet the former architect designing some seriously cool jewellery.
---
Name: Clara Ho || Often found: In my studio, currently in New Norfolk || Listening to: One of my favourite podcasts - Conversations on ABC; How I Built This; Stuff You Should Know || Whilst sipping: Rum from New Norfolk Distillery (my husband's distillery) of course! || Passionately discussing: The last cool design space/object, event, food, drink - anything that made me go wow! || And working on: My never ending to-do list!!
---
For many people, the idea of quitting a steady job as an architect to launch a men's jewellery business would be unthinkable. Luckily for us, Clara Ho likes to think outside the box. From a light-filled studio in a tiny town called New Norfolk, she runs Burton Metal Depository - an accessories business that lets modern men express their individual style.
This dynamic dreamer is always on the go, finding inspiration everywhere she turns whether that's through her jewellery, the objects she creates, her shop, or spaces where people can discover other businesses' products and goods that make them go wow! With an eye for beauty, a brain for design, and a pen in her hand, Clara is constantly creating.
"I couldn't live without a pen! I find that it's the best way I find to communicate ideas. As the saying goes - a picture is worth a thousand words."
"For me, being able to draw my idea is a thousand times easier than expressing it in words."
From salvaging antique pieces from her grandmother's garage sales as a child, to moonlighting as a silversmithing student in her early twenties, Clara's passion for jewellery has never waned. Working in jewellery stores throughout her time at university, she realised that women who were looking for subtle yet striking pieces of jewellery for their husbands and boyfriends were often at a loss. At the time, men's accessories (outside of watches and cufflinks) were a rarity.
This was especially the case when it came to men's jewellery designed by Australians and made locally in Australia, until one day, when an idea sparked in Clara's head.
"I was sitting in front of my computer in the architecture firm I was working at. The project was a large, high-end residential project which involved lots of larger-scale planning, but then also went right down to smaller-scale detailed design work, like customising the handle of a wardrobe in one of the kid's bedrooms."
"I realised I really loved the intimate, detailed design aspect, plus I wanted to make things that would connect people."
"I had this urge… this need to create something that was my own design and to bring life into the world. Jewellery fulfilled that little niche and I loved the idea of it being such a personal object that people would be wearing and touching and feeling against their body all the time. And so I thought to myself, 'Why not try it out? If not now, then when?' Coupled with my previous experience working in jewellery stores, I decided to focus my work on men's jewellery. And that's where Burton Metal Depository found its voice.
Of course, just because Clara quit her architecture career doesn't mean that she has left it completely behind. These days at Burton Metal Depository, she combines one-hundred-year-old handmade jewellery techniques with the use of 3D modelling software, while drawing inspiration from her favourite architects like John Lautner, Carlos Scarpa and Louis Kahn, as well as ancient mythology.
"I get inspiration from a lot of my architecture training and my background, I guess in the ways that you think about design, forms and space. But I also love exploring different, ancient mythologies. There's something fascinating about the way simple objects were imbued with stories and deeply significant meaning, and the value the ancient people put on talismans and amulets."
For Clara, the idea of infusing jewellery with a deeply personal story is something that she carries out throughout everything she does, especially when it comes to custom pieces.
"I always love to talk to my customers first and find out what's special to them, what's meaningful to them, and what they would love to incorporate into their special piece. More often than not, it's a wedding ring, so I love to try and get the story of something that is special between the couple.
"I try to find out something that only they know about, like a secret, a secret word or a special story that they share."
"From there, I'll come up with some designs that draw on those concepts but abstracted, so it's never a direct representation. I start by drawing, then use a lot of models to explore ideas - from rough cut-up pieces of paper that look like a kids craft corner, through to 3D printed objects or wax models.
"Then I'll usually transfer the design onto a CAD program on the computer and make a 3D model of the ring or the pendant. We keep modifying and amending the design and then once they're happy, make it in the metal that they choose. Once it's made in the metal, I'll finish it (while sending lots of pictures as we go). Finally, it's time for the finishing touches, like the polishing or the oxidising, setting the gemstones, and then presenting it in the gift box."
The final product is a handcrafted piece, made with love, received with joy, and worn with a quiet confidence.
"I love design and creating experiences that make people go 'wow', that capture that wonder that you have as a child when you're opening your presents under the Christmas tree."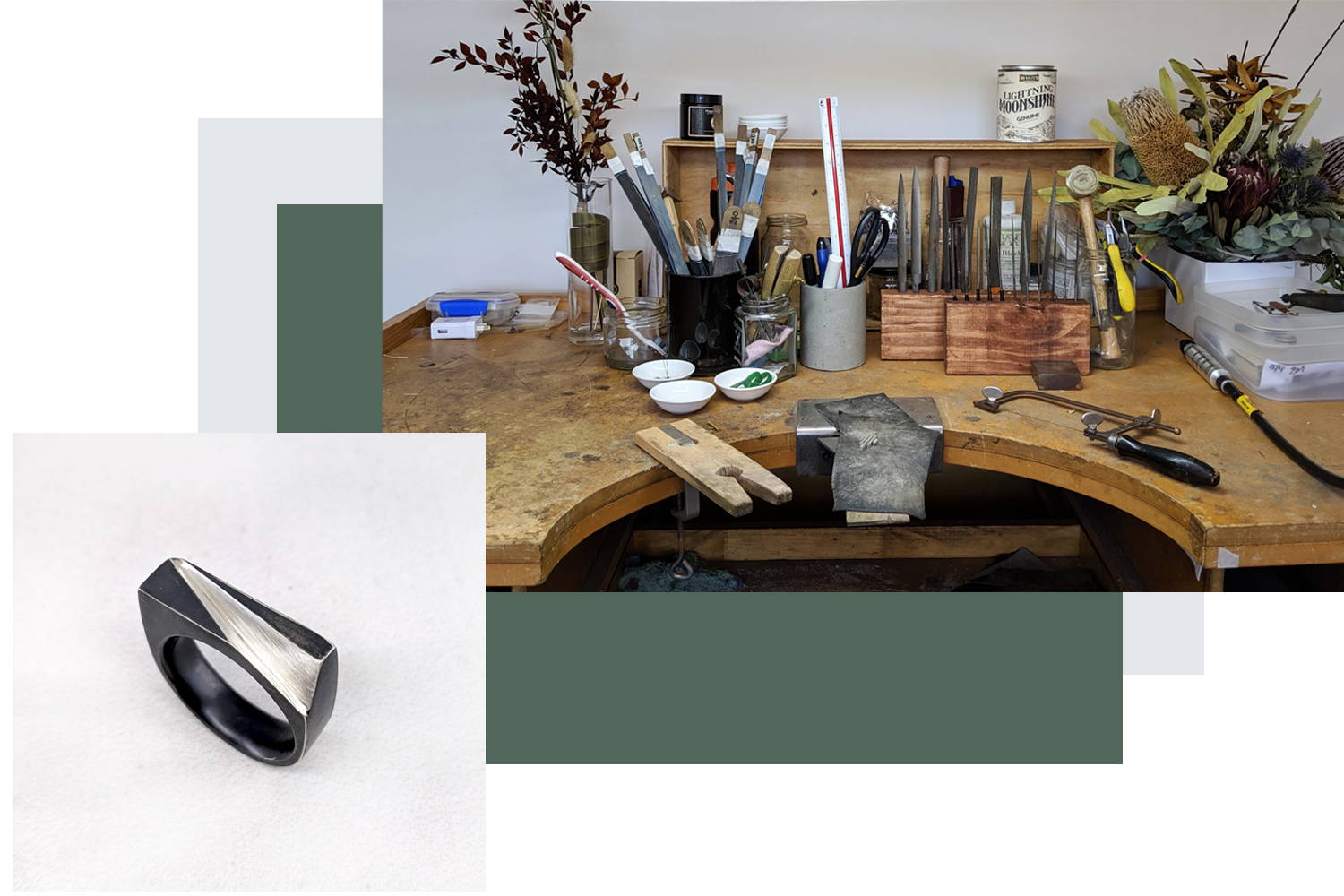 As someone who invests a deep amount of herself in every piece she creates, Clara believes that giving them as gifts is an act of joy.
"An artisan piece is something that's true to its materials. It's been authentically made. Everything has been thought through - from the junction of two pieces, to its finish, even to how much it weighs. To give something that's handcrafted is to give an object that inherently contains joy.
For the receiver, it's the joy of wonder - receiving a unique item they haven't seen before, like a child who sees a snowflake for the first time. For the maker, it's not only the joy in crafting the object, but knowing that their creation is out in the world, being loved and treasured."
A curated collection of pieces from Burton Metal Depository are now available from Nash + Banks. View her Metropolis Necklace and Delta Necklace here.